Budweiser tent with free food, beer and sodas for journos. Press refused such corporate gifts, of course. Yeah, right. #denverdebate

— Roger Simon (@politicoroger) October 3, 2012
Ever wonder how "real journalists" prep for presidential debates?
In fact, #debate sponsor Budweiser has an open bar for members of the media. http://t.co/aDF03Oi0
— Ryan Teague Beckwith (@ryanbeckwith) October 3, 2012
Evidently the spin is alcohol-induced.
If #debate coverage fuzzy tonight, know that Univ of Denver plowed the press with free beer & ribs 3 hrs earlier!
— Charles Thomas (@CThomasABC7) October 3, 2012
Plowed. Or plied. That ABC7 Chicago reporter may have had a few already. Who says reporters can't hold their Budweiser?
The internet uncovers all: #Budweiser has sponsored every debate held since '96, & bribe campaign staffers w/ free beer http://t.co/MFaNRDZ0
— Dan Monfre (@DanMonfre) October 3, 2012
Budweiser is giving out FREE BEER to journalists at the debate. I'm sure @TPCarney will be a total killjoy about this.
— Mark Hemingway (@Heminator) October 3, 2012
7,000 accredited media in Denver for #debate. Inside media perimeter, we get ribs, beer and bean bag toss! Ohh, fun.
— Bryn Weese (@brynweese) October 3, 2012
Budweiser is giving free food and beer for all press. LOTS of tipsy reporters. Debate is off to a great start. pic.twitter.com/KNgbt1Bq
— Andrew Jenks (@AndrewJenks) October 3, 2012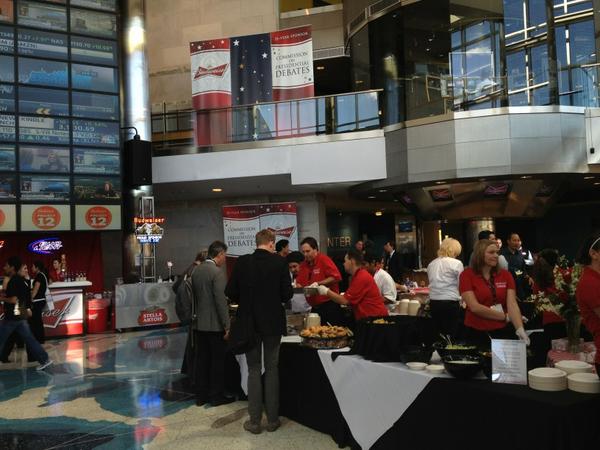 These cups look like an accident waiting to happen when President Eye Candy's lapdogs squee with excitement. Heh.
They fill up the beers from the bottom here. But if you squeeze the beer at the bottom it spills out pic.twitter.com/JNSwoOkR
— Rosie Gray (@RosieGray) October 3, 2012
this contraption pours Bud into your cup FROM THE BOTTOM pic.twitter.com/f887Z5mo
— john r stanton (@dcbigjohn) October 3, 2012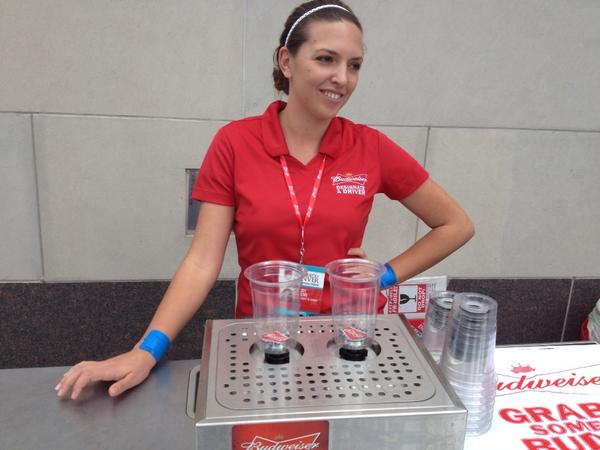 The Budweiser #debate beer truck at the University of Denver http://t.co/s7mze6cQ
— Russell Mokhiber (@CorpCrimeReport) October 3, 2012
Real reporters of genius.
Read more: http://twitchy.com/2012/10/03/tipsy-media-coverage-of-tonights-debate-brought-to-you-by-budweiser/