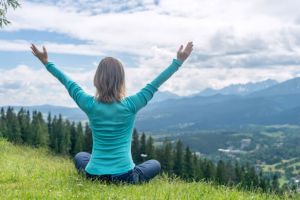 If you are as passionate about a healthy lifestyle as we are, then youve likely looked into and maybe even tried meditation. Meditation has been around for thousands of years with millions of people swearing by its effectiveness. Now, studies seem to confirm that meditation affects us down to a cellular level, impacting our brains and potentially even our longevity, although more research needs to be done before scientists reach a final verdict.
In the meantime, learn eight great ways meditation benefits your 37 trillion cells!
Increases happiness: Meditation triggers increased brain signaling in the left prefrontal cortex, while it decreases on the right. Simply put, this is what makes you happy and decreases negative emotions.
Improves acceptance: You may not like the way you look, the job you have to do every day, or even a disease you cannot beat. Meditation has been linked to an improved acceptance of what is your reality.
Increases self-awareness: Meditation can help you identify frustration or anger you may hold and put it into perspective. Taking time to get to know yourself better allows you to detach from such feelings and understand them better. Read more…